Delivering Customer Service with a Joint Trench
Joint trench is an odd term. Most people would not know what you were talking about when using that term, but in the utility world a joint trench is one that is shared by a number of utility providers. A joint trench can contain gas and electric, or gas, electric and communications, or any combination of multiple utilities. Usually this is part of the planning for new infrastructure. Some utility companies provide both gas and electric and for them it is easy to construct joint trench installations.
When one of our customers contacted us with a project in downtown Chicago the scope of work was to lay 705' of conduit through some of the most congested utility infrastructure in the United States. One of our goals as a contractor is to provide as much value as possible to all of our customers. A project such as this one requires street cutting, long areas of open cut work, traffic control and disruption to movement of vehicles and pedestrians in a busy area of the city. It seemed logical to contact our customer partners, the engineering firm, and the City of Chicago, Department of Transportation to explore a joint trench project. This approach to construction where consideration is extended to all telecommunications companies, and cable providers is a considerate way of maximizing effort and reducing cost and inconvenience to our customers, the city and its citizens.
Our efforts paid off by combining into one project three telecommunications companies and multiple conduits in the same trench for a combined distance of almost 1,600 feet and bringing fiber through the wall to a number of significant residential and business buildings in the area of the project.   
This project was driven by the demand for high speed data service. All of the conduit will ultimately carry fiber optic cable throughout downtown Chicago. This projects was in the area of Wabash and Randolph and extended to Michigan Ave. But in our other work we are building fiber optic infrastructure throughout the Midwestern United States.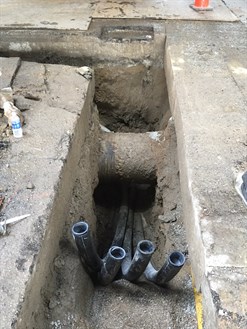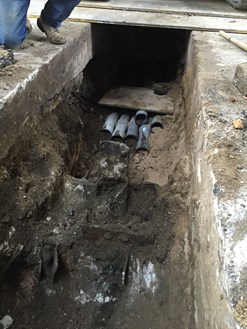 As is evident from some of the photographs the reader can see the utility congestion that exists in this area. One advantage of fiber is the speed and capacity inherent in each strand of fiber. Much of the old copper wiring will eventually be removed or abandoned in place. We owe a big thanks to HBK Engineering (http://hbkengineering.com/) for the detailed drawings provided to our crews. Since every utility must be located and visually identified, the drawings were an aid to our crews in accomplishing this task. No utility hits or safety incidents were recorded on this job which lasted 6 weeks.
Two four man crews worked to build out this project. They were supported by truck drivers, to haul material and equipment. Excavation was done with hydro-vacuum, track hoes and by hand. Street cutting was accomplished with diamond saws. The project was in proximity of residential structures. Consequently no work was allowed at night.
The result of our work? Secure fiber to the building and a restored street surface.
In order to avoid the evening rush hour all work had to be completed by 3:30pm. Traffic control was a constant challenge and the crew had to be on the lookout for distracted texters possibly wandering onto the jobsite. The 4 foot wide by, up to, 4 foot deep trench had to be covered with road plates each night before the end of work. The entire job site was cleared, all cones and barriers removed and the streets and sidewalks were completely open for vehicle and pedestrian traffic when work was finished for the day.
Our project was welcomed by CDOT since they were repaving the entire area. They wanted to see this work done and welcomed the joint trench approach since it meant that the street, once paved, would not have to be opened up again.
In the end three major telecommunications companies had multiple fiber runs to high rise buildings, complete with foundation penetrations or stubbed up for future use. CDOT's deadline was met and the cost savings was shared among the three companies.
Electric Conduit Construction works above and below ground but the important thing is that we go beyond in our service to our customers. This brief case study on a joint trench project is one example of how we deliver service to all of our customers.