For over 50 years Electric Conduit Construction (ECC) has built underground utility infrastructure for power and communication companies. The world has moved into fiber optic cable but the earth is as unyielding as ever and the work to install anything underground is more complex. ECC works in the heart of major cities, suburban environments and rural settings. Our award winning utility damage prevention programs and protocols have won us recognition for safe excavation in the most difficult of circumstances. ECC generates over 100,000 dig tickets each year. Our crews are very thorough and may experience one or two strikes on a marked utility in a year's worth of excavation.
Safety is a constant challenge. Work zone protection is one of our greatest challenges. Working on busy streets, highways and tollways, around rail yards and mass transit lines brings with it serious safety challenges. Our Certified Safety Professionals (CSP) are diligent in their quest to achieve a zero accident state of work.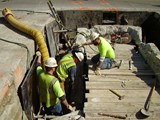 ECC installs conduit, distribution cable, distribution conduit, transmission conduit and fiber- optic cable by traditional open cut methods and directional drilling. Most projects usually require a combination of the two.
Project management plays a large role in smoothly executing a project, communicating with the customer, and coordination of crews, and equipment.
Our permit department is adept at working with cities, villages, counties, departments of transportation and other stakeholders. Their relationships and knowledge sometimes is the key to getting a project started and keeping it running.
In summary ECC can manage and execute your underground utility project safely and professionally We understand that utility infrastructure is designed to last for decades. We build it right the first time to give you maximum useful life.
Consider Electric Conduit Construction for your next underground project.