COMMITTMENT TO YOUR COMMUNITY
Electric Conduit Construction works in many states throughout the Midwestern U.S. We understand the impact construction can have on local communities. Utility construction is disruptive but the end result is improved communication, power and gas service. We believe there should be more long term benefits to the communities we work in. To that end we have partnered with local aldermen and community groups such as META24 in Chicago and created a pipeline to develop, train, and hire local community skilled workers. 
and want to do our part to keep our projects safe, as well as minimize disruption to the routines of residents of the towns we work in. In addition we are making an effort in the Chicagoland area to develop our work force from the communities we are working in. See workforce-development
Electric Conduit Construction funded, set up and staffed a fiber splicing lab. Fiber splicing is a highly technical and demanding skill that is in short supply. Or graduates have found employment with our company and our on a career path that will be very stable due to the explosion in inconnectivity that will come from 5G networks.  Listen to our employees. We are proud of each of them:
Our commitment to developing local skilled labor has not stopped with our fiber lab. We are developing laborers, Linemen, and Electricians. We have partnered with Local 9 and their hands on apprenticeship training to bring META24 employees some of the best electrical training available. Our own internal resources are put to use to train on all aspects of jobsite and electrical safety. We are committed to develop these young workers into career oriented construction workers who will advance into leadership positions in the company. Along the way they will better themselves and their families.
We are committed to your community and wish to connect with you. Please use info@ElectricConduitConstruction.com to send us a note.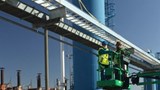 Responsibility
is the foundation for all we do
For over 60 years, we've built an environment within our company where safety is everyone's responsibility. Every phase of every project, we accept nothing less than an accident-free jobsite. We believe this standard leads to safer and more productive jobsites and that's why we're dedicated to having the highest level of protection for our employees, our customers and the general public. That's our standard.