Emergency Repair to a Damaged 12 kv circuit
Distribution crews from Electric Conduit Construction (ECC), were called out when another contractor's construction crew hit a 12 kv distribution circuit while moving a load with a sky-trac, extendable boom forklift. Molten metal exploded from the sky-trac's forks as they created a short between the conductors and the neutral. The force of the impact broke two poles and pulled 150 feet of conductors and neutral to the ground. This is the kind of accident that kills people instantly. In this case, the operator miraculously escaped. The three phase fuses did their jobs and immediately opened, stopping the flow of power from the ComEd distribution line.
ComEd crews arrived on site. They removed what remained of the blown fuses and locked and tagged (LOTO) their switches at the ComEd poles. No power was flowing from the distribution system
The ECC crews installed aerial grounds on all three phases at each end of the damaged lateral circuit. The emergency generator had already kicked on at the facility. The ground system provided added insurance that no power would find its way onto the circuit while repairs were underway.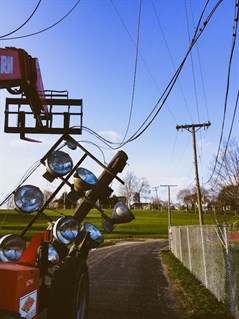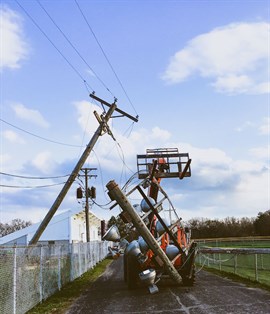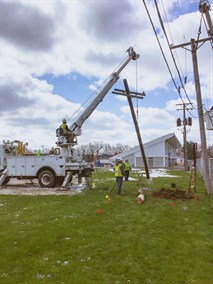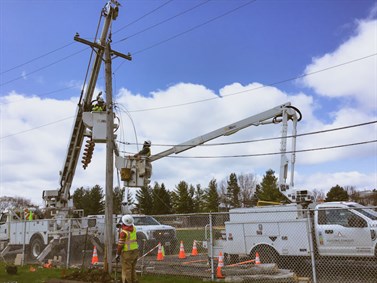 Crews then cut away the burned cables and broken bell insulators. They removed the broken poles and augured in new 35-foot poles. The existing cross arms were reused. All new hardware was installed, and "automatics" were used to splice the replacement cables to the clean ends of the existing cables. The three phase cables and neutral were tensioned. All debris were removed.
ComEd and the facilities manager were notified that the circuit was ready to be energized. The aerial grounds were removed, ComEd installed new fuses and energized the line. The facility was up and running.
 Project notes:
600 feet of replacement wire
2 35' poles
Insulators and hardware
Down guides
Temporary grounding installed and removed
New fuses
Equipment
Digger Derrick rigs
Bucket trucks
Crane
ECC distribution crews completed this work safely and within 18 working hours over two days, and placed the line in service. Distribution work is demanding under normal circumstances. Under emergency conditions there is pressure to get the customer back up and running. In this case an emergency generator supplied power to the customer. Nevertheless the ECC crews worked fast and safely. There were no incidents. 
As a reminder to all who might read this, please be aware of overhead power lines. Heed the caution signs and look up before you cross. Use a spotter to help you judge distances. Obey the Minimum Approach Distances (MAD). If you do not know the voltage of the line or the MAD then don't cross. 120 volts can kill you. With 12 KV you don't stand a chance. 
Electric Conduit Construction prides itself on supplying the utility industry with competent, professional crews who deliver quality work safely. Call us for your electrical distribution needs.