Catastrophe averted
ECC AVERTS A SINKHOLE CATASTROPHE!
Electric Conduit Construction Site Supervisor Saves the Day!
Not everyone gets to dig in the dirt, let alone underneath the surface of a roadway, but that's what Electric Conduit Construction does for a living. They are often working below ground to install high speed fiber optic cable, electric power or natural gas lines for utility companies. In this case they were laying fiber optic cable conduit for a major cable company on the near northside of Chicago. After removing a section of road base they found themselves staring into a black hole. In an area where there should have been compacted stone, and sand, there was nothing, nothing but the road above.
Void under through traffic lane (L). Saw cutting to determine extent of void (R) 
The void was deep and contained unsupported 30 inch and 6-inch gas mains, along with a high voltage distribution cable. The road surface was nothing more than the shell of an egg. One crack and the entire surface would collapse throwing the full weight of a vehicle or heavy truck onto the unsupported mains. The result would have been a horrific explosion and fire. The surrounding area consisted of residential, and commercial property as well as a college preparatory academy. This situation could have easily become a tragedy.  
To give a little background ECC Foreman Jason Kepuraitis and his crew were excavating for fiber optic cable installation at a secured job site in Chicago on July 18th, 2018 when they discovered a large "sinkhole" under the road's surface. The sinkhole, located at the corner of Augusta and Noble on the near north side, was large, approximately 40' x 15' and was 8' deep. The situation that they encountered, as noted above, was an accident waiting to happen! Needless to say, immediate action was required by the ECC crew.
Because ECC regularly goes through extensive safety training for situations just like this Jason and his crew took immediate corrective action which was critical in avoiding a catastrophic situation. He immediately shut down a large portion of the street. He instructed his driver to park the dump truck in the west bound lane and blocked all traffic from the compromised road surface. His laborers placed traffic barriers and acted as flaggers to further divert traffic.  He then placed calls to CDOT(Chicago Department of Transportation), Peoples Gas and ComEd to apprise them of the situation. ECC has extensive experience in emergency safety situations and acted accordingly to monitor a situation that could have come to a very unfortunate ending.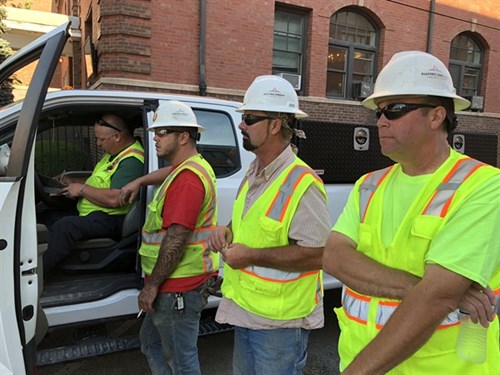 Jason and crew 
It was later determined that the cause of the sink hole was a broken storm drain pipe near a catch basin. Water, flowing out of the cracked tile had washed away the road bed material that had encased all the underground utilities. Had this been allowed to continue there would most certainly have been a structural failure. Recognizing this the City of Chicago is now planning regular inspections throughout the city to lessen the odds of this happening again in other locations.
Sinkholes happen for a variety of reasons. Ground water, broken water mains, leaking storm drains can all contribute to their formation. Some of the most complex civil engineering problems stem from the interaction of water and the subsurface ground matrix. It sounds mundane. But there's a good chance you've seen sinkholes in the news before. As urban subsurface infrastructure ages problems like sinkholes will continue to occur. Many of our subsurface utilities are placed directly below roadways, and the road surface often acts as a final bridge above the sinkhole, hiding the void below. Erosion is a powerful force and in the case of sink holes it is difficult to detect until it is too late, and the surface collapses. Fortunately ECC discovered this one, called the appropriate parties, assisted with the back fill and completed the project with no incidents.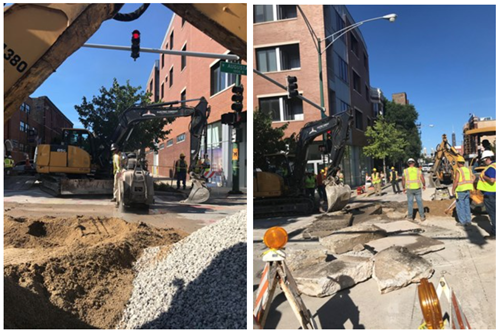 Back filling the void (L) and (R)
"Our customers depend on us to recognize safety issues and to act on their behalf to correct the situations immediately with the utmost safety in mind." ECC President Tim Pfleeger commented, "We have successfully completed many hundreds of subsurface utility infrastructure projects and every once in a while a situation like this arises and we are quick to react for the safety of our crews and the public at large. A big thanks goes out to Jason and his crew, who perform this dangerous work day in and day out in all types of conditions. Their situational awareness and attention to safety is commendable. True professionals."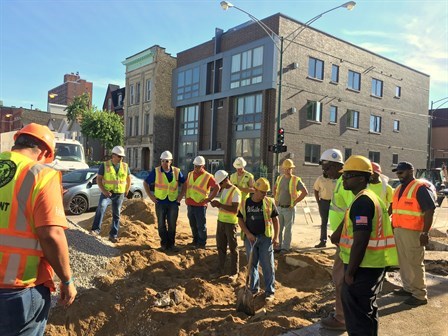 Utility engineers on site
Electric Conduit Construction is headquartered in Elburn, Illinois. ECC is an award winning, national utility construction company that provides turnkey construction services to build telecommunication and electric infrastructure systems.  ECC specializes in start-to-finish execution of the design, build and optimization of utility networks for major public and private utility owners. ECC's work has allowed its clients to connect their existing networks and rapidly expand their utility footprints throughout the country. Learn more at: www.ElectricConduitConstruction.com.