Electric Conduit Adds More Tech To Their Vehicle Tool Box
Electric Conduit Construction now has the "MUD DOG 1200!"
Elburn, IL. (June. 19, 2018) – Electric Conduit Construction (ECC) has long been one of the Nation's top ranked utility contractors for the telecommunications and electric utilities industries for over 50 years. They offer a complete range of telecommunication, small cell, fiber optic, above and below ground construction services including congested urban environments, directional drilling, sub-station upgrades, fiber rings and fiber to the building solutions.
Electric Conduit Construction is constantly looking to better serve their customers and add additional expertise to their construction crews. They have continued to do so by adding the Mud Dog Hydro-Vac truck to their tool box of specialty equipment. This particular piece of advanced technology adds both Hydro-Vac and Air Knife capabilities to their crews, all in one vehicle. This is a multi-task truck that will allow ECC to accommodate certain hole digging, pole excavating and pole insertion functions at a much faster and safer rate.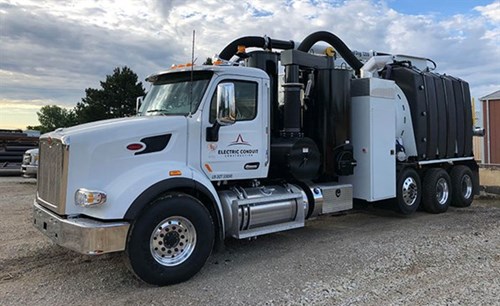 Some of the attributes of this addition are a 1,300 gallon capacity tank on a 12 cubic yard dump body, with a 1,000 cfm blower. ECC President Tim Pfleeger commented, "This vehicle will aid in our Pot-Holing and Directional Drilling process while identifying crossing utilities. It also affords us advantages when extracting and inserting new utility and light poles by occupying a much smaller area which minimizes the disruption to vehicle and pedestrian traffic."
This "Mud Dog" has many other attributes that will ultimately afford ECC the opportunity to enhance its production schedules, reduce times to project completion, and contribute to their constant goal of job safety enhancement on all of their job sites for all of their crews and personnel.