Joint Trench Project
Opening up a street in a dense urban area reveals a tangled mass of utility infrastructure that includes communications, electric power, gas, sewer and fiber. With each passing decade the utility space becomes more congested. Abandoned copper wire is occupying space now needed by others, but once in the ground it stays in the ground. The concept of a joint trench project in these types of crowded utility corridors is gaining in popularity. Utilities are increasingly willing to pool resources to install their conduits in a joint trench. The resources are not just funds but also include permit applications, and engineering resources. when TelCo's work together projects like the Fullerton joint trench become a reality.
The benefits from this effort are widespread. The TelCo's pay less per foot overall by engaging in a joint trench project. By planning the location of handholes they can also anticipate future use and facilitate tapping into their systems for new customers. Municipalities benefit by having the streets and alleyways opened up one time for the joint installation. Restoration is also a one time event and this produces a smoother pavement surface and a consistent look to the restoration. The public is inconvenienced one time rather than three or four times.
There is an environmental benefit as well and that is the disturbance to parkways. Cities usually are short on green space. Trees and other plantings are usually confined to small yards, parks and parkways. The less disturbance to trees and plantings the better. A healthier greenscape is the result.
The following video was created by Planet Underground TV. The video tells a great story about the complexity of underground construction in urban environments, more importantly you will discover the benefits of joint trench installations.
PlanetUnderground.TV Episode 15 Joint Build
PHOTO GALLERY
The following gallery illustrates some of the details of construction on this project.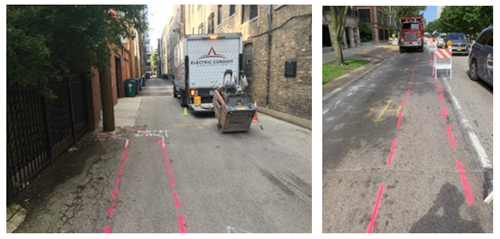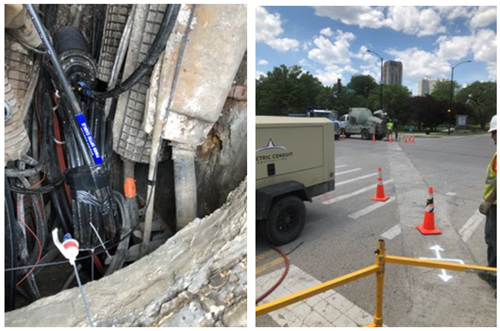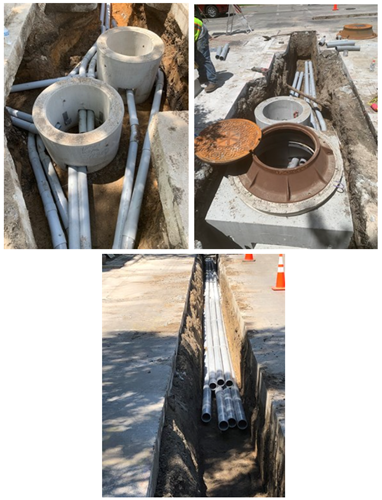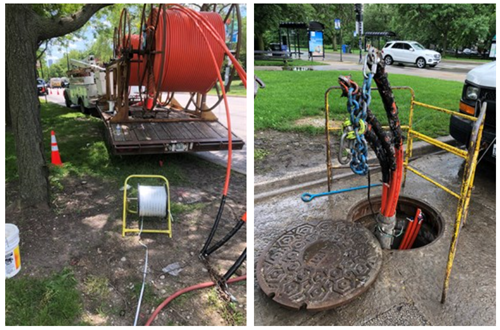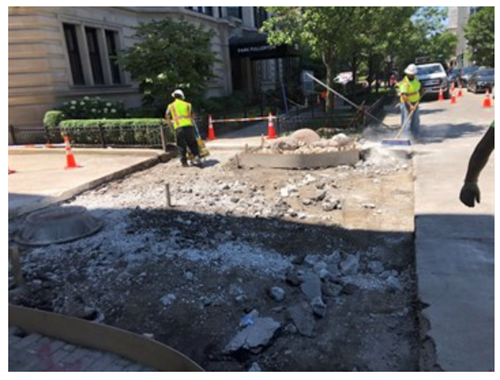 This project posed many challenge. Pedestrian and traffic flows had to be managed. Constant movement of the project as one portion was completed and the next opened up necessitated multiple changes to the traffic controls. Keeping the work zone protected with jersey barriers and other precautions kept our crews safe. The movement of equipment in and out of the site, pouring concrete and other restoration activities. Our crews, foremen and project managers manged through this and avoided work zone intrusions and employee injury. A successfull project that will bring increased bandwidth and speed to users in Chicago.
A big thanks to our crews, foremen and project managers who work very hard to complete these projects safely.