Larson earns Construction Health and Safety Certification
Electric Conduit Construction Company, and its division Midwestern Contractors, employs four safety professionals. With work going on in places such as Illinois, Indiana, Michigan, Wisconsin, Minnesota, Ohio and Iowa, our safety professionals are on the road for much of their time. Larson studied for and earned his CHST certificate in order to gain deeper insights into building, maintaining and enhancing our safety culture. The goal of this company is ZERO injuries, ZERO incidents.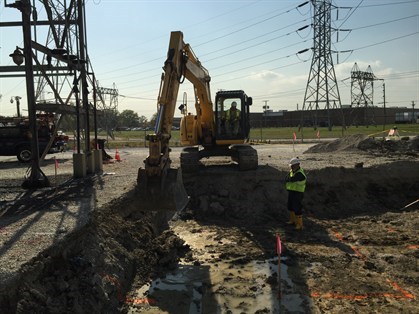 Excavating for a transformer footing in a substation
With the CHST certificate Larson learned more about best practices among all industries and especially the construction industry, in the following areas:
Safety Program Management
Haz Com
Respiration hazards, respirator fitting and inhalation hazards
Hearing hazards and hearing program management
Vision protection
Fall protection
Scaffolding erection and inspection
Excavation hazards
Shoring protection
And more. As a company we congratulate Larson on this achievement and the benefits this will bring to our employees. Job well done!