Polar Plunge Supports Special Olympics
The day was bright and cold. Air temperature and water temperature matched at 37 degrees. But for everyone participating in the Polar Plunge adrenalin was keeping them all warm. The Electric Conduit Crew met about an hour before their assigned 11:00 am plunge time. Then at 11:00 sharp, with a collective yell we ran down the beach and into the icy waves with an east wind in our face. 
This event raised everyone's spirits and contributed to the $25,000,000 raised by individuals and companies in Chicago and northern Illinois. 
We could not have pulled this event off without the generosity of our company and our sponsors. A big thanks goes out to:
WELDSTAR
Marina Cartage
Illinois Truck
Millenium Pipe
LW Meyers
Roesch Ford
Talman Consultants
Hash Browns Restaurants
Morrison Security
GOOD LUCK AND MUCH SUCCESS TO THE SPECIAL OLYMPIANS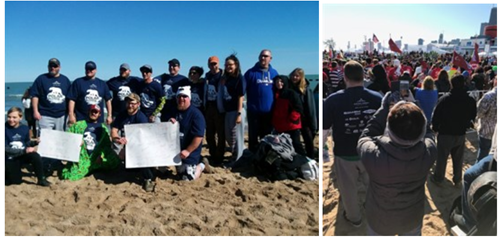 The Electric Conduit Construction Team (L), The Chicago Crowd (R)