Substation Upgrade
As substations age, equipment wears out. Electric Conduit Construction (ECC), is taking part in a major substation improvement project involving the replacement of transformers and installing digital, fiber optic control systems. ECC's scope involves excavation, conduit placement for fiber, and manhole placement, to name a few. The entire project will take 60 days and should improve system reliability and control. Our crews are diligent in performing their work and very attuned to safety in this 134kv environment.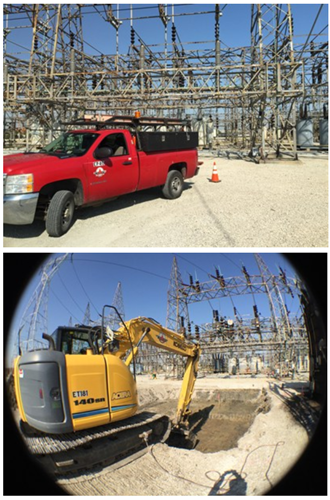 Excavation work in these project sites requires careful probing with hydro-vac units to identify the known and to find the unknown utilities. We pride ourselves on our safety record and ability to work in hazardous areas. All employees on this project have special training to alert them to the hazards of high voltage, in addition daily tool box talks and the daily job site analysis (JSA) emphasize the tasks to be performed and hazards associated with each. Nothing moves on this job with out a spotter. Our expectation is to finish on time with zero incidents. Thanks to our foremen and crews for working safely and watching out for others.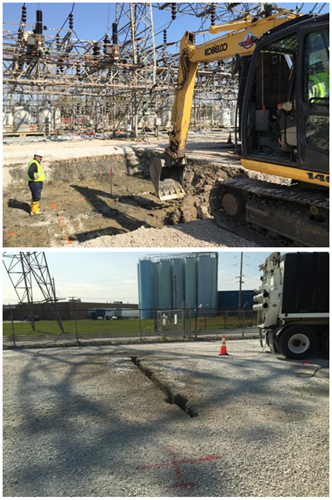 The following photos and show one of two man holes being placed and shoring removal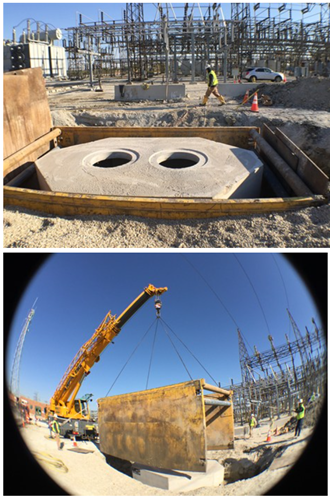 Thanks to Ztylus for the 4-in-1 lens kit used for these photos.