The Right Place at the Right Time
On August 3, 2018 an employee of Electric Conduit Construction, and an Illinois Army National Guard corporal helped save a woman's life by wading into a retention pond at I-90 and Rt. 47 and pulling her from the overturned submerged vehicle, according to Illinois State Police.
Corporal Nathan Jennings, and an Electric Conduit Construction crew consisting of Matt Worden and Jason Schuls stopped and ran to the pond. Jennings and Worden entered the water. Corporal Jennings got the passenger side door open. Worden held Jenning's leg as he entered the vehicle. Completely underwater and with zero visibility he managed to free the driver Ms. Joanna Girmschied and pull her from the vehicle.
By this time more people had stopped and made their way to the edge of the retention pond. As Jennings and Worden dragged Ms. Grimschied to the shore, others had already called the State Police and 911. The volunteer rescue party now numbering ten started CPR. Ms. Grimschied started expelling water and breathing.
Others were in the water searching the car thinking there might have been other passengers. Thankfully none were found.
When the State Police and EMT's arrived, they transported Ms. Grimshied to the hospital. She suffered a broken hand but made a full recovery.
She owes her life to the extraordinary efforts of ten quick thinking, well organized civilians, some of whom risked their lives to say a fellow human being.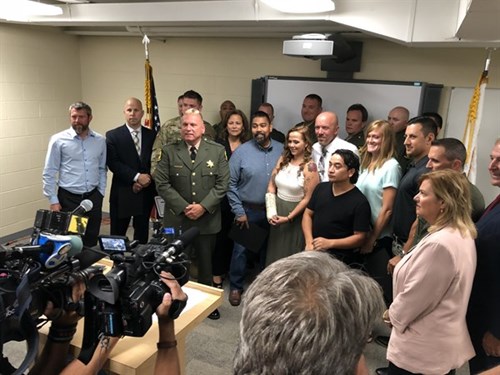 All volunteer rescue group at  Illinois State Police commendation ceremony
When the civilian rescuers left the scene, Corporal Jennings went home. Matt Worden went to the shop to get ready for the next day and did not say a word to anyone. It wasn't until the Grimschied family called to find out who saved their daughter that we found out what happened.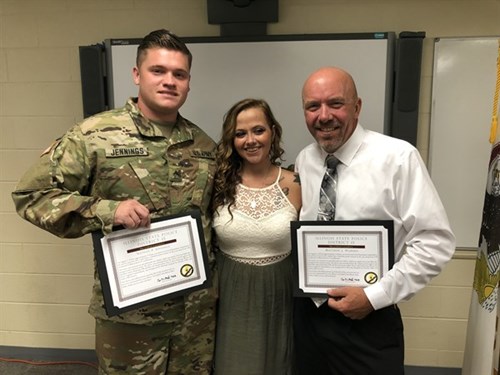 L to R Corporal Jennings, Joanna Girmschied and Matt Worden
Corporal Jennings, Matt Worden and all the rescuers were honored during a commendation ceremony a few days later at State Police offices just off the tollway. It was a moving ceremony.
Our commendations and heartfelt  thanks, go out to Matt and Jason for their quick thinking, and selfless actions. We have the finest people working for our company and we could not be prouder of them. 
Thank you, Matt and Jason, for going above and beyond. Job well done!
 September 12, 2018. It turns out that Corporal Nathan Jennings always wanted to be a lineman. Electric Conduit Construction is hiring Cpl. Jennings to do just that. Welcome aboard Cpl. Jennings.