Trenching in Conduit for Fiber Optic Network
The amount of fiber optic cable being put in the ground and hung from utility poles is staggering. Fiber ultimately will replace copper twisted pair, and coaxial cable. The data transfer rates and reduced latency on cellular networks is a detectable improvement for anyone using these networks. Electric Conduit Construction (ECC), wants to put fiber in the ground and in the air as fast as possible. But doing it safely is much more important.
A person with X-ray vision looking into the ground, in any city, would would see a tangled mass of piping, cables and conduit. These underground utilities are vital for suppling natural gas, water, electricity, telecommunications, and sewers. Adding new utility lines such as conduit carrying fiber optic cable is not a simple matter. A new conduit sometimes must be threaded in to the existing system.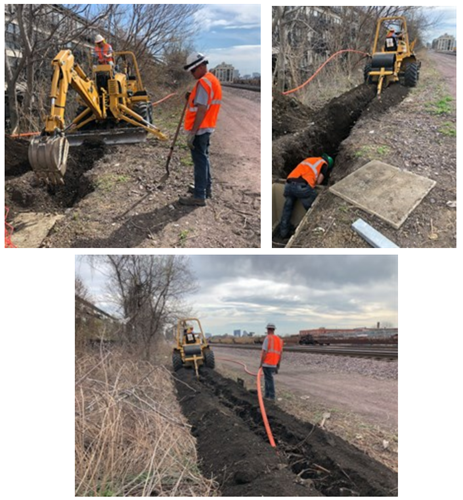 Left to right photos showing the start of the trench and the even distribution of excavated material as the conduit it placed.
In the case of a recent project along a rail road right of way ECC found a clear path and was able to use a trencher to lay most of the conduit. The project involved:
554' of open cut
8 Hand holes
1 Man hole
4,274' of Conduit
4,828' or Fiber and slack fiber
Installation of buried cable markers
Time to install 1 month
The use of the Vermeer RTX 1250 expedited the project. This machine was equipped with a mining chain. This cutting tool was selected because of the unknown fill material that might be encountered. ECC typically is prepared to encounter buried reinforced concrete slabs, large boulders, concrete rubble and other building material. ECC has also had to deal with buried rail road tracks and abandoned piping of all diameters. The carbide cutting teeth on the mining chain rotate slightly as they cut through material. The RTX 1250 also is equipped with electronic sensors that monitor the load on the chain and the engine RPM. When the machine is cutting through something that offers more than normal resistance the "Trench Sense" system disengages the chain. This allows the operator to reposition the machine and continue cutting. Given the open right-of-way and almost no conflicting utilities the RTX 1250 made short work of the 554' of open cut work. 
Following the open cut work steel conduit carried the fiber over rail road bridges. Hand holes were used as connection points and accumulators for the slack fiber. Then the actual fiber was pulled through the entire series of hand holes and conduit to complete the job.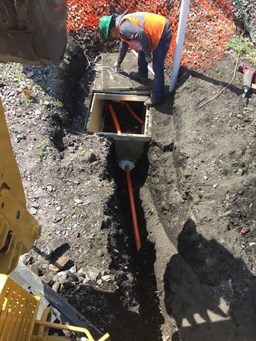 Pulling mule tape through conduit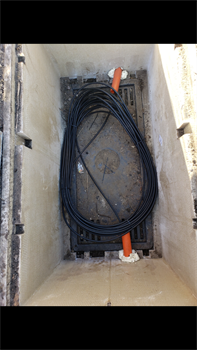 Slack fiber in hand hole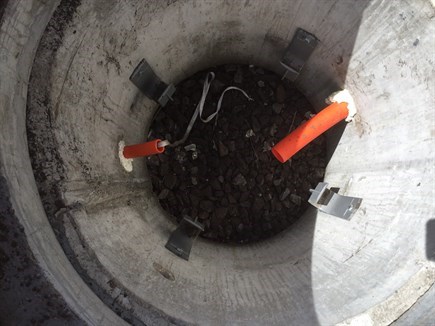 Conduit sealed into hand hole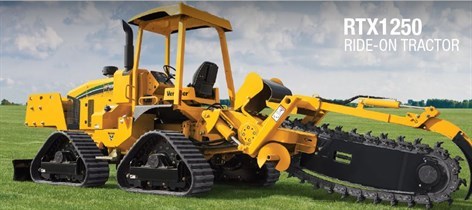 An RTX1250 equipped with tracks