Water Tower - Co Location
Electric Conduit Construction was a awarded a series of water tower Co-Location projects that required extensive modifications to the equipment rooms in order to accomplish the job. Water towers are designed to hold a tank of water on top of the structure in order to create head pressure for the users. Hanging radios and antennas on the tower places additional loads on the structure. In this case the carrier's engineers decided to locate only the antennas on the tower and place the radios in the equipment shed. This eliminated weight from the tower, but required signal amplification and multiplexers to bring the antenna signal through 200' of Coaxial cable and into the radios.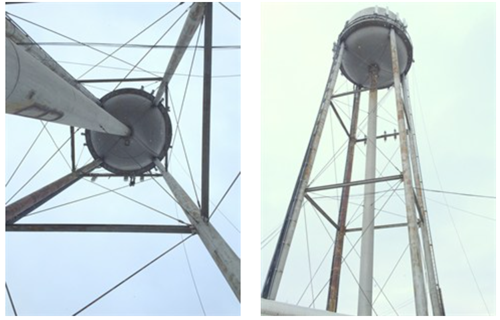 View of tower
The temperature was 16 degrees F with a 10 knot North West wind blowing. Our crews are prepared for the cold and climbed the tower to get this job done. The biggest challenge was in the equipment room where the radios and multi-plexers had to be installed. New circuits were created and power and coaxial cables were terminated and connected.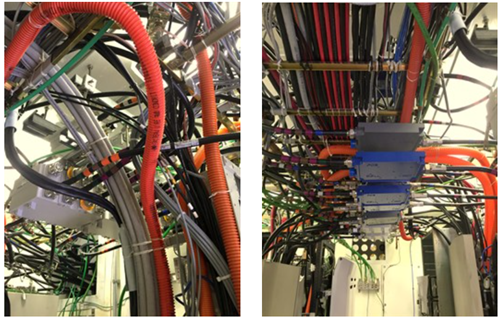 It's complicated / Multi-plexers
Cold weather always makes work slow down. Men have to be warmed up occasionally and it is more difficult to work with gloved hands. Sometimes it is impossible and the gloves come off no matter what the temperature. This job only took a few days but the significant part of this is the speed to market we were able to provide to our customer. When all of the new connections were made, the radios placed, and antennas aligned and tested, the entire system worked perfectly on the first try. No call backs - we pride ourselves on delivering quality performance to our customers.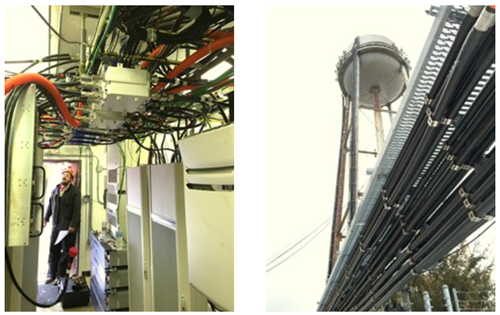 Where do I begin? / View of ice bridge and cable tray
Safety is top priority on any job. Tower climbing and working around radiating elements requires training and situational awareness. All of our crews receive climber training and Radio Frequency Dectecor training. We want every employee safe at all times. If you have a co-location project and value speed to market, please contact us to discuss your project. info@ElectricConduitConstruction.com